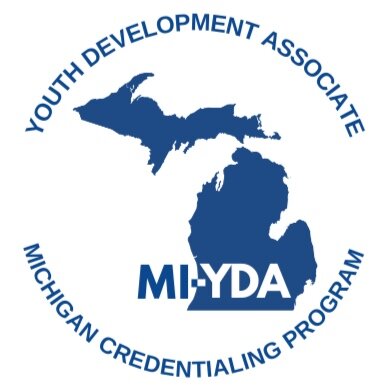 Michigan YDA Certificate and Credential Program
The choice to work with school-age youth is one of the most important career decisions that a person can make. A school-age youth development professional is an extraordinary individual who helps to guide youth to master skills, develop relationships, grow in independence, and move to new levels of thinking and understanding about themselves and the world. The Michigan Youth Development Associate Certificate, Credential and the Core Knowledge and Competencies support quality programs for school-age youth by providing standards for training and evaluation.
The Certificate and Credential programs represent the combined efforts of representatives from school-age and youth groups across Michigan to define competencies for youth development professionals in our state. In 2011-12, the Michigan Core Competencies were revised to reflect and align with the National AfterSchool Association Core Knowledge and Competencies for AfterSchool and Youth Development Professionals.
Core Knowledge and Competencies
Define what youth development professionals need to know and be able to do to provide quality youth programming.
Serves as the foundation for decisions and practices carried out by professionals in all settings and programs.
The core knowledge and competencies establish a set of standards that support the professionalism of the school-age youth development field.
There are 10 content areas ensuring a comprehensive approach. Each content area describes the knowledge and skills professionals need in order to work with youth and their families.
Each content area specifies ways in which professionals fully include youth from various ethnic, linguistic, and socioeconomic backgrounds as well as youth with special needs.
Professionals increase their knowledge and skills in the content areas through ongoing training and education.
Benefits of Becoming a Candidate
Be better prepared to work with school-age youth.
Appropriately support school-age youth in their development.
Create a professional development work plan.
Increase knowledge and skills through focused professional development.
Receive acknowledgement for education and experience working with students in out-of-school time programs.
Improve the quality of school-age youth development programs.
Non-Discrimination Policy
No person shall be denied the opportunity to apply for the Michigan Youth Development Associate Certificate or Credential on the basis of race, color, religion, national origin or ancestry, age, gender, sexual orientation, marital status, or handicap.